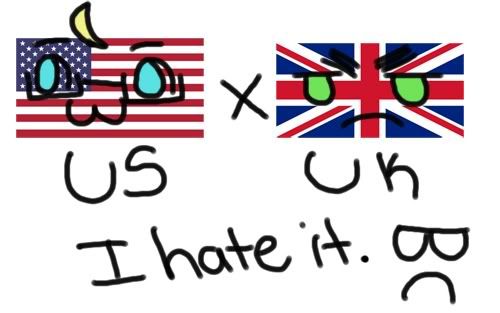 So this is dare numero cinco from
julia9197 in which I had to draw a picture of a pairing I dislike. This is the result. I shall be taking my candy now.

Yes, I hate USUK with such a passion I don't even. (No offense to those of you on my flist who ship this) That is why I clearly did not spend a lot of time making it an award-winning piece of art. You get this, and no more. :B

Lol I haven't used my tablet since forever, but I probably should since it's a really nice tablet and probably cost my mom over fifty bucks. This picture is the first time in a long time since I last used my drawing tablet.

Maybe once I get better with drawing on paper, I'll use my tablet more.

Yeah, I have epic mad drawing skillz yo.

I haven't forgotten about the other dares. I just got lazy. I will finish them eventually, but right now my profile is in dire need of a makeover for Halloween.